Your order will be processed and shipped by our team as soon as possible. Due to the pandemic, however, there may be delays in the dispatch of goods.
J. S. Bach's "St John Passion"
2 DVD + Blu-ray / linen edition
Johann Sebastian Bach's St John Passion with the Berliner Philharmoniker and Sir Simon Rattle was one of the outstanding events of the 2013/2014 season. As before with the St Matthew Passion, star director Peter Sellars succeeded in creating a staging which made the spiritual and dramatic content of the Passion story even more intensive. The soloists, choir and orchestra musicians all interact with each other in a creative as well as compelling way to reveal the many psychological layers of the Passion story. The New York Times praised the "brilliant and energetic" playing of the orchestra, the Frankfurter Allgemeine Zeitung the "haunting, almost unsurpassable singing of all those involved". Heading a top-class ensemble of soloists was Mark Padmore as the Evangelist.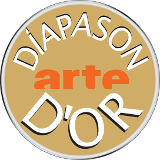 Programme
Johann Sebastian Bach: St John Passion

Berliner Philharmoniker
Sir Simon Rattle Conductor
Camilla Tilling Soprano
Magdalena Kožená Mezzo-Soprano
Topi Lehtipuu Tenor (Arias)
Mark Padmore Tenor (Evangelist)
Christian Gerhaher Bass (Pilatus, Petrus)
Roderick Williams Bass (Jesus)
Rundfunkchor Berlin
Simon Halsey Chorus Master

Peter Sellars Staging
Bonus
Introduction by Simon Halsey
Sir Simon Rattle and Peter Sellars in conversation
Live recording from the Berlin Philharmonie, February/March 2014